Echografie Ultrasound Product Overview:
Wireless Uroflow Recorder developped by Schippers Medizintechnik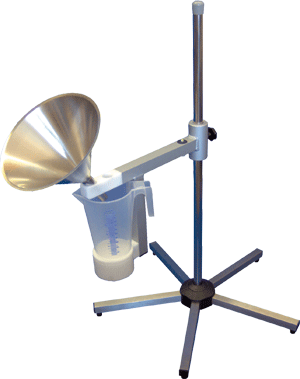 Let the patient do his miction in privacy behind the wall and measure the flow on your desktop automatically via a BLUETOOTH wireless connection. Print out the diagram on your normal printer.
Benefits
Adjustable height for the collector
Privacy for your patient
Accurate measurement of the urine flow
Easy transfer to paper print out via your pc
Status display for the patient
AC 220V or with chargeable Battery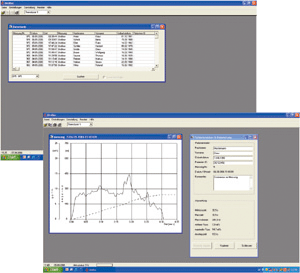 Connects via Bluetooth wireless to your laptop or desktop. On the PC Urorec software is installed. Automatic show of measurement and Graphical display and allows to print on your normal printer.
On the print out A4 paper
Clinic name
Patient name
Your individual comments and diagnosis
top
Vitascan bladder scanner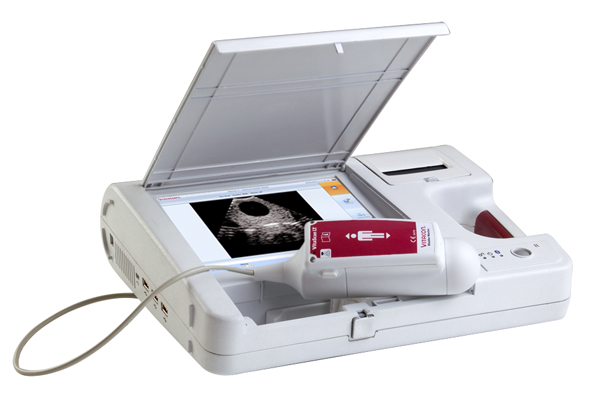 The Vitascan is a portable ultrasound bladder scanner, which quickly, comfortably and safely, measures the bladder volume of your patient. The instrument is user friendly so that within a couple of seconds, using a non- invasive method, you have a real time bladder image and the bladder urine volume, measured in millimeters. Easier for the nurse, the patient and a more accurate dry result .
The patient as well as the user will experience little annoyance during the examination. The examination is similar to an ultrasound scan and uses the same gel. After wiping the gel the examination is over and you know exactly the remainder of urine in the bladder. After printing the results for the patient file your nurse can carry (or roll if you order the wheels as well) the appliance to the next patient. The scanner can optionally work on batteries.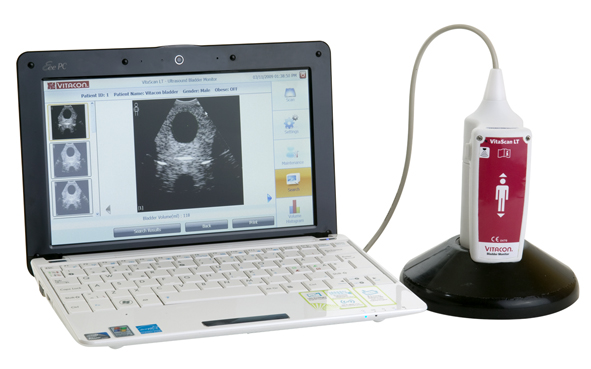 Advantages of using this measuring method:
Less discomfort for the patient and the nursing people.
Reduces the infections seen that the need for using Catheters reduces strongly.
Non invasive examination and the patient keeps his mobility.
Easy to learn how to operate for new members of the nursing staff.
Cost for the hospital reduces since diagnoses can be done faster Less time needed to measure urine volume.
More hygiene and dryer.
We offer two systems. Have a look at www.bladder.be for more information.


Doppler systems
"BI-DI DOP Plus" elpromedical
Very high sensitivity Doppler for detecting low flows in small vessels.
Features:
Thermal paper of 60 mm
Three printing speeds: 5, 12.5 e 25 mm/s
Double printer control: pushbutton and footswitch
While printing the operator can change the scale, the printing speed, the zero base line and mode (bidirectional or separate)
High resolution backlighted lcd display: 320x240 dots, 1/4 di VGA
Selectable zero line position
Full scale amplitude from 0.5 to 8 KHz
Inversion of graphs and scale
Display speeds: 5, 12.5 e 25 mm/s
Double freeze command:pushbutton and footswitch
Hi-Fi audio output with stereo separation of direct flow from the reverse flow
Bandwith: 40 Hz to 12 KHz
Output power: 5+5 Watt max
Wall filter selection
Automatic gain control and
Digital volume regolation
Output for external optional loudspeakers or stereo headphone
Microprocessor control of all the system

Last 90 sec exam memory
The graph postprocessing allows to revisit the memory content, to change the scale, the zero line position, the speed, to make the inversion, to select the mode and to insert or exclude the list of calculations
Calculation of: PEAK SISTOLIC, END DIASTOLE, MEAN VELOCITY, PULSATILITY INDEX, RESISTIVITY INDEX and HEART RATE
Internal rechargeable high capacity batteries enables an autonomy of 4 hours
Recharging is done using the special standard supplied charger in 90 minutes
Pencil probes of 4, 5, 8 and 10 MHz
Serial output for PC interface
External input for Pletismography or ECG signals
When connected, the doppler graph appears on the top side of the display wether the external signal is displayed on the bottom side
Dimensions: 280 x 300 x 130 mm
Weight: 3 Kg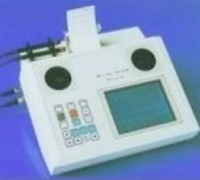 Option:

Bi-Di GRAPH software package for real time color graphs, parameters analisys (including resistence and pulsatility index) and patient data-base
The BI DI DOP PLUS kit include:
carrying case
consolle
probes 4 and 8 Mhz
paper roll
gel flacon
user manual
charger
top
BIOPSY NEEDLES
MEDAX BardMagnum tm compatible biopsy needles
download pdf
Pajunk Deltac Cut Biopsy needles
The Delta Cut Biopsy system of Pajunk takes biopsies from organs, flexible in use and easy to operate.

Biopsy guns:





Specificaties van de slag van het biopsy gun:





Double action Biopsy gun met 12mm slag
Double action Biopsy gun met 16mm slag
Double action Biopsy gun met 23mm slag
top
Thermal Printer Paper
Paper for echo ultrasound equipment print outs UPP -110S
A6 width B&W High Quality print media (type I) for use in UP-895CE/D895/890CE/D890/860CE/D860 printers.
Mainly used in Ultrasound, Dental and Microscopy applications.
Roll dimensions 110 mm (W) x 20 m
Shipment of 100 Rolls, packed per 10 in 10 cartons
Shipment tba.
Paper for echo ultrasound equipment print outs UPP -110HD
A6 width B&W High Density print media (type II) for use in
UP-895CE/D895/890CE/D890/860CE/D860 printers.
Mainly used in Ultrasound, Dental and Microscopy applications.
Roll dimensions 110 mm (W) x 20 m


SONY UPT-210-BL
A4 width Blue Thermal Transparent Film for use in UP-980CE printers.
This product is available in multiples 5 x 1 unit (master carton contains 20 rolls).
Mainly used in Ultrasound and Radiology applications.
Roll dimensions Sony UPP210BL
210 mm (W) x 12.5 m
Print quantity 42 prints /roll
SONY UPP216SE
A4 width B&W High Quality print media for use in UP-910/930 printers.
Mainly used in Ultrasound and Radiology applications.
This product is available in multiples of 5 x 1 unit (master carton contains 20 rolls)
Roll dimensions
216 mm (W) x 25 m
217 prints per roll
top